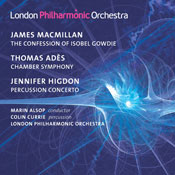 Grammy Award Winner in 2009 - Best Classical Contemporary Composition.
This was a live concert, recorded in London's Royal Festival Hall by BBC Radio 3. The Higdon concerto was just one piece in a longer programme, and the huge battery of percussion instruments required meant that everything had to be moved around between items. Being a live recording, where the microphones needed to be as unobtrusive as possible, many of them – including all the main pickups – were slung from the ceiling, and therefore not readily adjustable during the concert. As a result, the microphone positions that were optimum for one piece were not optimum for another, and unfortunately this was the case with the Higdon concerto. Not a fault in any way of the excellent BBC team, but simply one of the perils of live recording.
The BBC team made a live stereo mix for broadcast during the concert, but also recorded a clean multitrack – one mic per track – to a 48-track Pyramix system, and passed this on to the orchestra. I was asked by the LPO to see if I could make an improved mix for CD release. Just the kind of challenge I love!
I loaded the files into RML Lab's SAW Studio and got to work. Listening to each of the mics in turn it soon became obvious what the scale of the task was going to be – when you pushed up the faders labelled 'strings', all you heard was brass and percussion! But by using lots of tricks with EQ, reverb and dynamics processing (such as keying dynamics side-chains from other filtered sources) I was able to create a highly effective balance that retained the excitement and tension of a piece with an extremely wide dynamic range.
As is normal with most live recordings, a very few patches were taken from an afternoon rehearsal recording. Not typically to correct wrong notes – since Colin's playing is extraordinarily good – but rather to remove the few noises (such as coughs etc) that I wasn't otherwise able to eliminate with Algorithmix reNOVAtor.
Once the artists approved the mix (Colin describing the sound as "absolutely stunning"), I mastered the recording and passed it onto my colleagues at Floating Earth for CD compilation. They didn't make any changes at all, other than adding a fade to the final applause.
I was, of course, delighted when it won a Grammy!